Hey hey everyone!
Today is a special day for my, after much blood sweat and tears, I am proud to release my free WordPress theme, which I call "SmallBizWiz". Why the name? Well SmallBiz is taken and the theme is made for small businesses, and Wiz rhymes with Biz 🙂
This took a little bit longer than I hoped since I have some problems with getting the theme to display its default values for the theme option fields. You can read about my journey into the Options Framework defaults in this thread.
So here are some highlights of the theme!
Many easily customizable options for:

Logo in the header
Social media area in the header
Phone number area in the header
A field to place contact forms above the fold
An area is place a large marketing image above the fold
For the home page, 3 editable boxes to show your main business offerings
Footer text
Separate options for your Pay-Per-Click landing page

Different templates for different needs (PPC, HomePage, No Form/Marketing Image)
2 Easy to identify widget areas in the right sidebar and footer
Fully responsive, made with Twitter's Bootstrap
Adorable & Practical  default settings
The theme recommends some great plugins to make your WP Install better
So don't be a square, Download the theme today!
Also! Its would be great that if you find any bugs or things that are broken, please tell me! I've tested it pretty extensively, but sometimes things slip though the cracks.
After a lot of sifting though a lot of "not bad but not great" free, custom, and premium WordPress themes, I've decided to make my own "Dream" WordPress theme.
Since this theme has small business owners in mind, I have decided to call it SmallBizWiz. I wanted to make a theme I could give to clueless clients and let them fill each part of the website with the content they want using a simple interface. I've been developing it for a few months now and it is based upon the excellent bootstrap theme Devdmbootstrap3.
I have really grown to like this theme since:
It is already fully Bootstrap 3 based, which is my front end framework of choice
The author keeps it up to date, as soon as Bootstrap 3.2 was released, the theme was updated to include the new version
Some themes have too many extra features or junk in them, this theme was perfect to just rip apart and remake anew 🙂
Another bootstrap based theme that looks good is Shoestrap but I have not really played around with it too much yet.
Now on to my Dream Theme, you can see a screenshot of my Work In Progress below: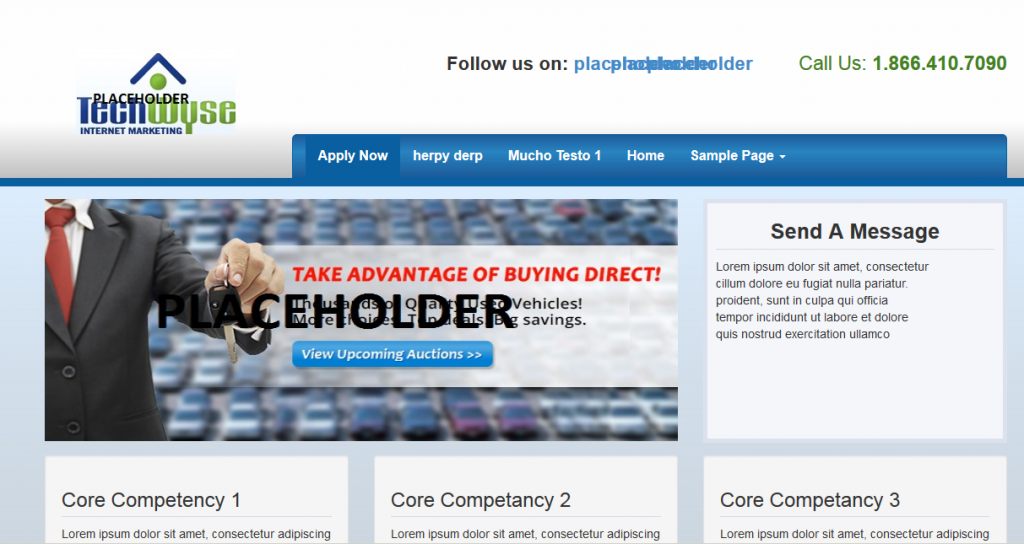 And here are links to the Live Demo and the theme Zip file so you can try it out on your own WordPress installation.
Working on a lot of stuff right now, but most of the tricky stuff is out of the way. This means that the theme is now: fully responsive, has multiple customizable text areas and image areas, fully works with pages how you would expect.
I was considering putting in a slider for the main image area, but there are plenty of reasons to not use sliders on your website.
So with those links above you can try the theme as it is, but you'll see it is quite lacking at the moment. Things on my to do list are:
Add defaults for the customizable areas, so it doesn't look like a blob of goo when you first install it.
Add more customizable areas, like the core competency boxes
Allow the user to pick which fonts they want to use
Allow the user to use a color picker to change the css colors
Make more templates, right now only the homepage template is working, need to work on pages for posts, pages, and landing pages
Recommended plugins which include WordPress SEO and Contact Form 7
There are probably a lot more I am forgetting but that is what comes to mind right now.
Feel like I am missing anything important? Please let me know!